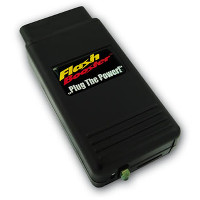 Enjoy the Power!
We are proud to announce that the first flash tool for the consumer market, is now available. After a long development time, we have developed a new Flash tool for the private car market. We understand that the customer wants more control and transparency when flashing his vehicle. With this tool, you are now able to optimize your car by yourself as well as reset it to original anywhere and anytime.
The FlashBooster® is the answer!
The FlashBooster® brings the "PLUG AND PLAY" in the chip tuning world.
Highlights
Easy to order, we only need the vehicle information and the VIN
Unknown use excluded by checking the chassis number!
No additional computer needed (completely independent)
Easy to use ("PLUG AND PLAY") and simply pluged into the diagnostic port, start the ignition and the FlashBooster does the rest for you.
Program at any time back to the original, without a trace and invisibly.
You do not need an expensive visit to a tuner, you make your changes by yourself whenever and wherever you want!
You get a optimizetion which was approved by the German TÜV, thus bringing high-quality, made in Germany.
A manufacturer warranty is accepted at request! (optional)
No more worries the warranty of your tuned vehicle.
No matter where you live, simply order online and within a few days the FlashBooster is at your home.
Various possible optimizations e.g. ECO Tuning, Chiptuning with German TÜV or a racing version.
No extra box (Pigiboxen) in your car, without a trace and invisibly.
No damage to the cables.
Your vehicle will remain with all safety functions are retained, such as the manufacturer intended it to ensure that your safety is guaranteed.
You have your FlashBooster easily in the glove compartment at your fingertips and ready to use!
The FlashBooster® is the first tool of its kind on the world market.
Quality
Our extensive experience from many years of hard- and software development are included in this new development. Highest quality and sustainability (German TÜV certified according to ISO 9001) are our foundation for maximum customer satisfaction and success. The electronic equivalent of the latest legislation of 01 July 2006 (RoHS standard). The OptiCan Dual Pocket is wholly produced and developed in Germany and is one of the last genuine products that has been made in Germany.