OBD Technik GmbH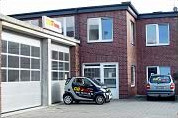 We have been in the tuning industry since 1997. Our specialty is in the area of making chip tuning and tuning through diagnostic port available with our flash tools. Our foremost aim is to provide high-end products for our customers.
Quality and service is our top priority.
We have customers and users worldwide which ensures high quality and service standards.
Our own products, such as the OptiCan or the FlashBooster are made by our specially trained team after DIN ISO 9002 with original accessories. Intensive function tests guarantee fault-free operation.
For a longer stay in the workshop we may provide a replacement car while we work on your car.
If you want to make suggestions or requests, please do not hesitate to contact us.
Your OBD technik team